Picking Tulips In Netherlands
You can't pick tulips at Keukenhof Gardens, but you can pick tulips fairly close by. And anywhere you can pick tulips, you can see tulips. What's more, instead of a sterile environment such as Keukenhof, you can see tulips being grown they way they have been for centuries in Holland. This is a great little side trip from Keukenhof, and you have a choice of returning to Lisse or just head back to Amsterdam from the picking garden instead of backtracking. The bus trip is less than 20 minutes from Keukenhof. If you spend an hour picking tulips, and head directly back to Amsterdam from the picking garden(about 40 minutes), the entire side tip would take about 2 hours from the time you left Keukenhof.
KEUKENHOF INFORMATION:
Where To Pick Tulips Near Keukenhof Gardens
From March until the end of April you can pick tulips at Annemieke's Pluktuin. Their greenhouse has tulips in many colors, and during March & April you can pick fresh tulips outside. If you miss tulip season, no worries, you can pick summer flowers here during summer months. Make a bouquet as big and as colorful as you want. Surprise that special someone with a handpicked, personally arranged bouquet of Dutch tulips. It's only a 20 minute bus ride from Keukenhof Gardens!
Tulips costs €0,25 each.
For tulips they are open from March – Mid May
Updated Annemieke Gardens 2018 Hours & Dates:
OPEN March – May 13, 2018 – Tulip Season
Every day from 9 a.m. – 5 p.m.
CLOSED – May 14 – June
OPEN July 2018 – Summer Flower Season
Thursday-Friday-Saturday from 9 a.m. – 4.30 p.m.
Getting to Annemieke's Plutkin
From Keukenhof Gardens –
Walk to Lisse Vreewijk Bus Station
Take Bus 50 in the direction of Haarlem
Get off at Hillegom, Bethlehemlaan station
Annemieke's Pluktuin is right at the bus stop across from the Ford Museum.
Click the map for full size image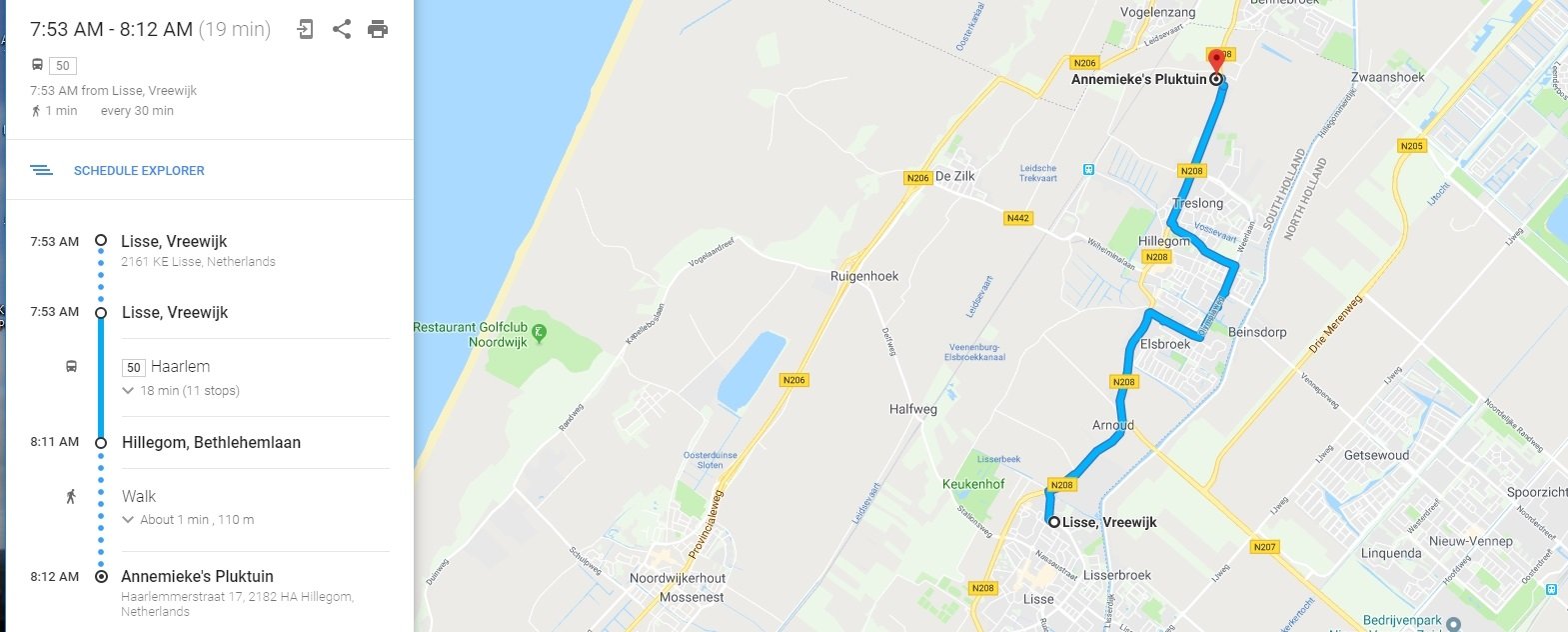 Annemieke's Pluktuin
Haarlemmerstraat 15a
2182 HA Hillegom
31 6 53839979
info@AnnemiekesPluktuin.nl
Annemieke's Flower Picking Garden
Tulip Facts
The tulip originates in the Tian Shan mountain region of the Himalaya.
The Netherlands is the world's largest producer of tulip bulbs. They grow 4.2 million bulbs, over 2 million of which are exported.
In the 1500's Turkish sultans would use tulip displays during lavish parties, some of which found their way back to Europe.
In 1560, the first tulips were recorded in Antwerp and by 1600 the tulips were established at the Hortus Botanicus in Leiden.
Between 1634-1637, tulip mania gripped europe. A single bulb could go for 1000 guilders, more than the price of a nice canal house.
The famous 17th century striped tulip was the result of a virus. The virus wouldn't be discovered until 1931.
There are almost 2000 varieties (cultivars) of Tulips sold commercially and about 100 new cultivars are added each year.
In the Netherlands, most tulip bulbs are grown between Leiden and Haarlem.
Nearly 25,000 Hectares are used for tulip growing in Holland
There are only about 2000 tulip growers in all of Holland