Keukenhof Gardens 2018
2018 Theme – Romance in Flowers
Keukenhof is open from March 22, 2018 until May 13, 2018.
Keukenhof Gardens has a certain magical aura about it. Millions of flowers surrounded by centuries old trees enhance its bucolic setting. It may be one of the most romantic places in the world to propose to a lover, or ask a spouse to do it all again. For young lovers there is always the chance to escape into The Cupid Garden or romp through the Love Paradise. What better way to celebrate all the love Keukenhof has helped to foster than to have a whole year dedicated to it.
KEUKENHOF INFORMATION:
Given the 2018 theme, expect roses to be a big part of this years exhibition. Rumor has it that the red rose will be given a place of honor in recognition of the flower's deep relationship with the concepts of love and romance. Not to be outdone by mere roses, Tulips will be at their finest within this years Tulip Mosaic comprised of over 50,000 bulbs. If the roses and flowers are not enough, a classical music festival aptly named Romance at Keukenhof will serve to close out this season's festivities.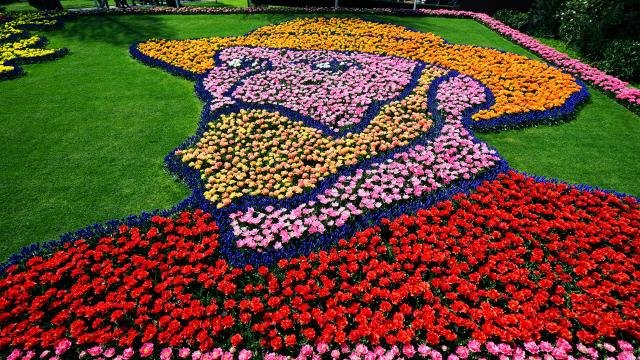 The famous home of Dutch Tulips was designed in 1857 as an aesthetic garden for Kasteel Keukenhof. It had earned its name more than 300 years earlier when the land was a barely tamed patch of land used by snufflers to find herbs and edibles for the estate's kitchen. Prior to that the land was primarily known as a good hunting ground.
After WWII, Dutch flower growers decided Keukenhof Garden would be a great place to display their flowers and to increase flower exports and sales. With the help of the town's mayor, the growers spent a year designing and planting the first Keukenhof Gardens exhibition open to the public. In 1950, Keukenhof was opened and was immediately beloved by the general public. In less than 70 years Keukenhof has gone from a local flower show to one of the most photographed places in the entire world.
In 1636 One Rare Tulip Bulb Sold for:
2 lasts of wheat – 160 Bushels – 9600 lbs
4 lasts of rye – 320 Bushels – 19200 lbs
2 hogsheads of wine – 126 Gallons
4 tuns of beer – 1004 Gallons
2 tons of butter – 4480 pounds
1000 lbs of cheese
4 fat oxen
8 fat swine
12 fat sheep
a complete bed, a suit of clothes & a silver drinking cup
Click on Map to expand to full size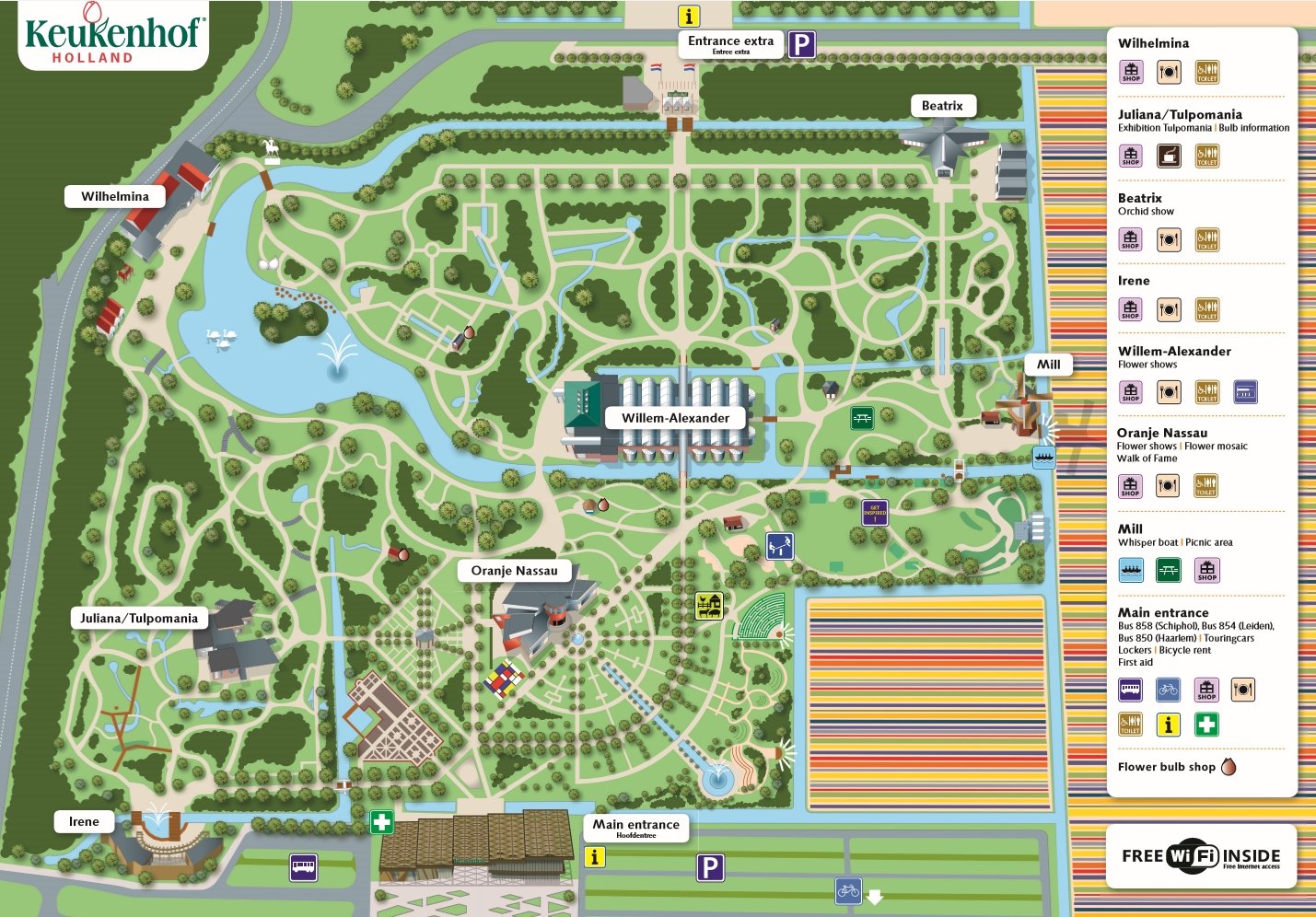 KEUKENHOF FACTS
2018 Romance in Flowers will be the 69th time Keukenhof has been open to the public.
Keukenhof is open from 22 March 2018 until 13 May 2018
In the 1400's the Keukenhof estate was used for hunting.
Countess Jacoba van Beieren owned the land in the 15th century. The uncultivated land was used for hunting and gathering herbs for the castle's kitchen.
Keuken is the Dutch word for kitchen. Hof is the Dutch word for courtyard or garden. Thus Keukenhof translates into Kitchen Garden.
The Keukenhof Gardens are across from Keukenhof Castle which was built in 1642.
Keukenhof was designed by the Zocher firm, in 1857 as an English landscape garden. Zocher also designed Vondelpark in Amsterdam.
In 1949, a group of Dutch tulip growers hatched a plan to use Keukenhof as a showcase for spring bulbs. The following year, the park opened to over 200,000 visitors.
Each year, Keukenhof has a different theme. For 2018, the theme is Romance in Flowers
There are about 30 full-time gardeners, who work year-round at Keukenhof.
Each autumn the gardeners plant by hand a completely new design. It takes about 3 months just to plant the garden. The bulbs are selected to bloom throughout the eight-week opening period.
More than 7 million bulbs are planted across Keukenhof Garden's 79 acres.
All 7 million bulbs are supplied for free by over one hundred bulb growers.
Each year about 800 varieties of tulips are planted.
At the end of each season, the flowers and bulbs are dug up. Much of it is used as livestock feed so it there is a little tulip in every wedge of Gouda cheese.
The bright green grass around the park is a special quick growing variety that is reseeded each year.
Keukenhof is the largest flower garden on Earth.
Keukenhof is only open eight weeks each year and has close to 1,000,000 visitors
50 million people have visited Keukenhof since it first opened. Three out of four visitors come from abroad. Visitors come from more than 100 different countries.
Almost every type of flower is marked with the name and grower. You can find the grower of your favorite bulb on site so write them down.
There are no fields of tulips at Keukenhof, although there are some privately owned fields just outside the estate.
Thirty flower and plant shows take place inside the pavillion each year.
Keukenhof is also home to the world's largest lily show. It is held during the last 10 days of the season.
In addition to the tulip gardens, Keukenhof also has: an English landscape garden, a spring meadow, a natural garden, a Japanese garden, a garden maze, a historic garden, and seven inspiration gardens that change every year.