The Jodenkoeken most people are aware of come in a large yellow can made by Davelaar. Joden is the Dutch word for Jews (plural as if in a group; a single Jewish person would be a Jood, and to be Jewish is to be Joodse), and Koek is the word for biscuit/cookie (koeken is cookies).
The picture on the front has two men carrying the cookies on what appears to be a stretcher in front of some ornate building and says Sinds 1883 (since 1883). Inside you will find 20 Jodenkoeken; large, thin shortbread cookies. These cookies come from an extremely simple recipe, so if you can't get to the Netherlands to buy a can, you can make them at home quite easily.
First a little Jodenkoeken history. Jodenkoeken is the "new" name for the cookie. The original name was Jodekoeken. The Dutch language is reviewed yearly and changes are instituted in order to introduce new words, change spellings of old words, and to further separate Dutch from German (I'm not sure this is in the official policy anywhere, but this was a policy post WWII when German-Dutch relations were not very good). In 1996, Jode was changed to Joden, and hence the name of the cookie changed. However some bakeries still use the old name when selling the cookies.
The Since 1883 is a bit of a marketing ploy. The first instance of the term Jodenkoek can be found in an advertisement placed by confectioner C. Strunck in the Java Bode in 1872. In 1883, a bakery in Alkmaar was founded. This had absolutely nothing to do with the famous can of Jodenkoeken, until 1924 when a man named Dirk Davelaar bought this bakery. Davelaar had a recipe for Jodenkoeken and began producing them out of this bakery. So the bakery has been around since 1883, but the famous Jodenkoeken were not produced there until the 1920's.
In fact, the huge international bakery company Lotus claims its recipe for Jodenkoeken came from an anonymous Jewish baker from Amsterdam who produced the cookies in the 1920's. So while the cookies have been made since at least 1871, the famous tin of cookies you buy today were first made in the 1920's. But let's face it, 1883 looks a lot better on the front of the can.
Being a Jodenkoeken historical expert isn't very satisfying unless you get to eat a lot of Jodenkoeken. You are welcome to come to the Netherlands and buy a few cans, but just in case that may be a little difficult at the moment, how about a Jodenkoeken recipe that you can make at home? This recipe is extremely simple. Probably the hardest part is not burning the cookies as they go from not done to burnt quite quickly. The cookies go well with coffee, tea and hot chocolate.
Jodenkoeken Recipe
Jodenkoeken
2 cups of self rising flour
2 sticks of butter, softened
1/2 cup sugar
1 oz of milk (2 Tablespoons)
1 tsp of cinnamon
2 pinches of salt
Cream the butter and sugar. Add the milk, cinnamon and salt. Knead flour into mixture. Wrap and refrigerate for at least an hour.
Preheat oven to 350F or 180C.
Dust counter with flour. Roll out dough to about 1/4″ or 5mm. Cut out cookies using a large circular cookie cutter, 4″-5″ in diameter.
Place cookies on parchment paper and then onto a baking sheet. Bake for about 15 minutes. Keep an eye on them as cooking times will vary based on altitude, the mixture and your oven. They should be a light, almost very light, golden brown.
To illustrate this, look at the following 3 pictures: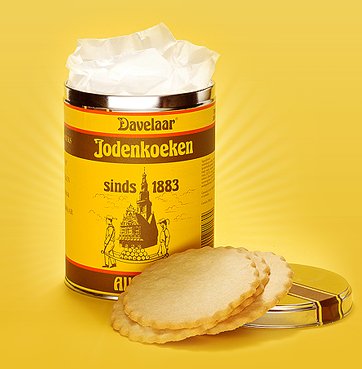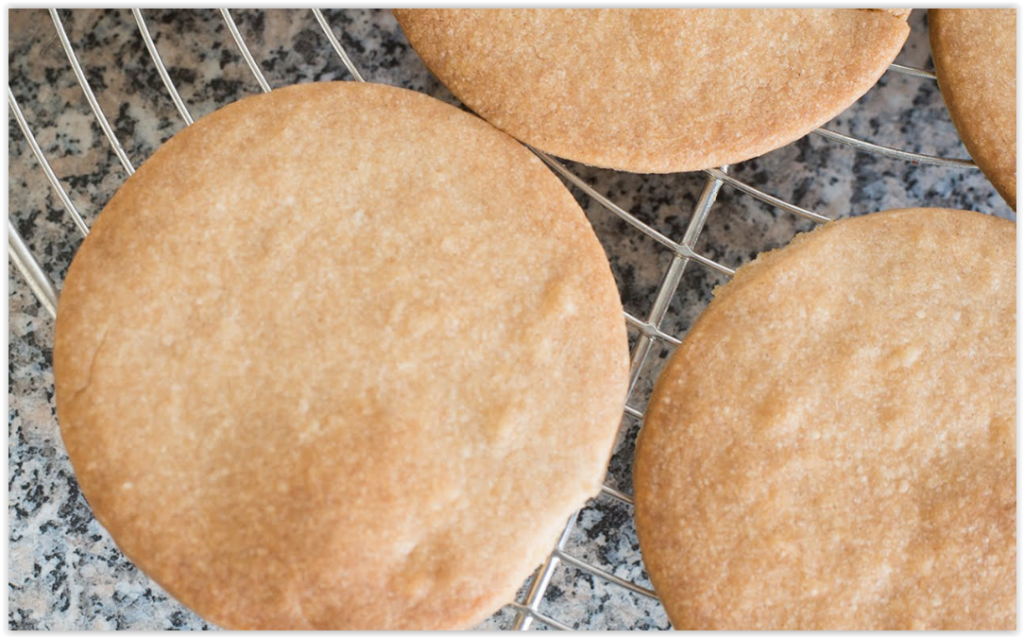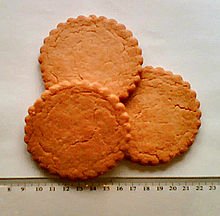 The picture of the burnt Jodenkoeken comes from Wikipedia. So the entire world sees burnt cookies whenever they look up this famous treat. Don't be the laughingstock at your next Dutch party. Jodenkoeken should ALWAYS be light brown, almost closer to NO brown. If you make Jodenkoeken and they look like the Wikipedia cookies, throw them out. Try again and take them out 2 minutes sooner.