20 Best Dutch Foods To Try While In Amsterdam
Trying Dutch foods can one of the more adventurous parts of your trip to Amsterdam. There are plenty of safe choices, from french fries, to pancakes and cookies. But if you want your tongue to live on the edge, you can try raw haring, rijsttafel, and stamppot. There are even a few tasty beverages to try.
The list of the 20 Best Dutch Foods To Try While In Amsterdam were hidden as easter eggs in the tram map pages. Here they are in one Best Dutch Foods To Try list. Ranked by a Dutch food lover with a sweet tooth, who also mysteriously dislikes fish. Take that into account with some of the rankings!
#1 Dutch Food: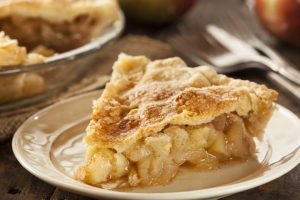 Appeltaart – Ah, Appeltaart, you tasty little devil. Dutch Appeltaart is more an Apple Cake than an Apple Pie, but it is delicious. The US version is called Jewish Apple Cake. The best Appeltaart in town is at Winkel 43, not far from the Westermarkt tram stop. Order it with a Hot Chocolate. You owe me one.
Pronunciation – Appletart as one word. Easy one. So easy I always misspell it as Appletaart….
#2 Dutch Food: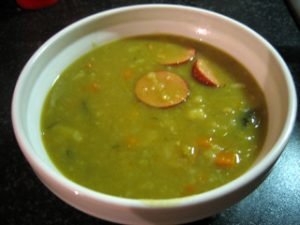 Snert aka Erwtensoep – Snert, also known as Erwtensoep, is Dutch pea soup. It also has some chopped up ham or suasage & bacon and is slightly thicker than traditional pea soup. Get some peas, ham hock, bacon, potatoes, carrots, leek, onion, celery, and garlic. Soup it all up. Serve with bread. Yum.
Pronunciation – Snairt aka Air-tin-soup. Snert is simple just say the "er" like "air" in English. Erwtensoep is easy to say once you hear it, but it looks impossible to say in English because of the "rwt" combo that doesn't exist in English.
#3 Dutch Food: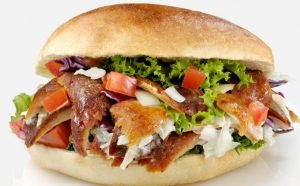 Doner Kebap – Oh, Doner Kebap, you succulent Halal nymph. Many nights you were my late night companion. Thinly shaved lamb, salad, a heavenly mix of pepper sauce and garlic sauce on a bun. If you would like it in a pita wrap, ask for a Doner Durum. Available on almost every street and corner. Kebap is the Turkish spelling of Kabab you may see on signs.
Pronunciation – Doe-ner Ka-bob. Doe-ner Duh-room
#4 Dutch Food: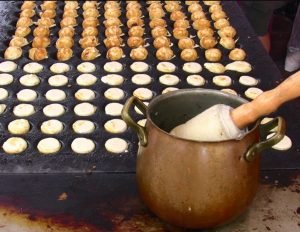 Poffertjes – Poffertjes are little pancakes served with butter and powdered sugar. They also can be served or topped with fruit and/or pancake syrup. There is a huge poffertjes grill inside De Carrousel at Weteringcircuit Tram Stop. You can also get them fresh in Albert Cuyp Market.
Pronunciation – Poh-fer-jes. Most Dutch o or oo is said as a long o in English. The "J" is said like the J in Jess. Or, um, just say Jess for the last syllable.
Here is a mnemonic. Jess loves Edgar Allen Poe. So for Xmas get "Poe fer Jess"!
#5 Dutch Food: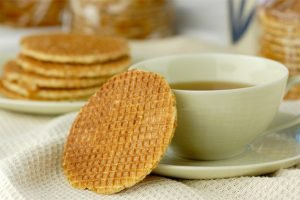 Stroopwafel – Stroopwafels cookies are two cinnamon brown sugar cookies with syrup inside. Sometimes they will have the option of having chocolate put on top. Get them made fresh, hot and quite large in Albert Cuyp Market. You can also get these in packages at the supermarkets for like one euro for 10 stroopwafels. So don't pay 6 euro for a can of them unless you really like that can. BTW, they are available in the same cans in some supermarkets….
Pronunciation – Strohp-va-ful. Again the long o sound. Not like stoop, like soap or rope.
#6 Dutch Food:

Bitterballen – Bitterballen are delicious small fried nuggets filled with a hearty roux. Think of a the inside of a pot pie, imagine it thicker, make it cold, roll it into a ball a little smaller than a golf ball, bread it, and fry it up. That is essentially what bitterballen are. Typically served with a spicy ground mustard for dipping.
Pronunciation – Bitter Ballen. Almost exactly how it looks and would sound in English.
#7 Dutch Food: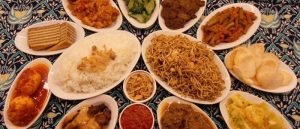 Rijsttafel – Rijsttafel is Indonesian tapas, a series of small sharable plate with spicy delicacies strewn about. Unless you plan on hitting Indonesia, Amsterdam is one of the few places you can get authentic Rijsttafel (Indonesia was a Dutch colony). Most Rijsttafel menus are sold on a per person basis and cost between 20-45 euro per person depending on how many dishes and the quality of them. It's tasty, unique, and makes for a great vacation photo.
Pronunciation – Rice-Tah-ful. Another one that sounds real close to how it looks in English
#8 Dutch Food: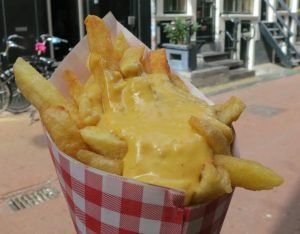 Vlaamse Frites – Flemish frites, or Dutch french fries, are everywhere in the Netherlands. What differs is the amount of sauces that are available to dip your fries in. Manneken Pis, on Dam across from the Grasshopper, has 20+ sauces. Try samurai, or my favorite, cheddar cheese which is not the cheese wiz you may think it is when you see it. If you really want to go Dutch, ask for onions, uien(Ow-when) on top.
Now that you learned all that, the Dutch person in front of you is likely to order "Patatje met". Patat are fries, and Patatje, is one serving. Met is Dutch for "with", and that met or with is going to be a lot of mayonnaise! So "Patatje met" is fries with mayo. Patatje Oorlog is fries with mayo, peanut sauce, & onions. Patatje Speciaal is fries with mayo, curry ketchup and onions. A real treat if you can find it is Patatje stoofvlees which is fries with a beef stew gravy.
Pronunciation – Flam-suh Freets. Dutch V is an F sound. Long e in Frites and one syllable, not Fritas like the Spanish word.
Bonus Pronunciation – Pah-tat-ya met
#9 Dutch Food: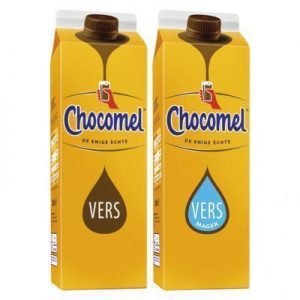 Chocomel – The best way to cheer up and get the energy to find your way back to centraal is to stop in almost any store and get a Chocomel. It is simply the best Chocolate Milk ever. Ah Chocomel, how I love thee, let me count the ways…Well it's really only one way, but it's as much love as any one way can take. Try to get Chocomel Vers that is refrigerated and not the Chocomel kept on a shelf at room temperature.
Pronunciation – Choc-oh-Mel. Say it again. Say it again! Praise be to Chocomel!
#10 Dutch Food: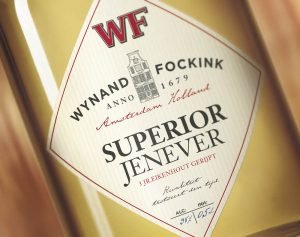 Jenever or Genever – All this site-seeing can leave a man, or woman, thirsty. Now you can grab a Heineken anywhere, but how about a little Genever, aka Dutch Courage. Genever is some bastard child of gin(in that it uses Juniper berries) and vodka. Think London (really, really) dry gin with a twist of turpentine and you are close. Just behind Dam Square is Wynand Fockink, a very old bar and distillery that serves the best Genever cocktails in town. It's owned by Bols now, but the spirit of being the neighborhood moonshiner is still there. You are probably wondering which is the correct spelling, Genever or Jenever…Don't worry about it, after you have a few you can't spell your own name let alone the name of the drink.
Pronunciation – Zhen-nah-vah, Hen-nah-vah. The Dutch G is the hardest part of the language. Its like saying the Huh sound of an H while clearing your throat of 3 days of flem. If you can think of rolling an H in your throat like a R on the tongue you are close. So say Hen while getting ready to spit a huge mucus ball.
#11 Dutch Food: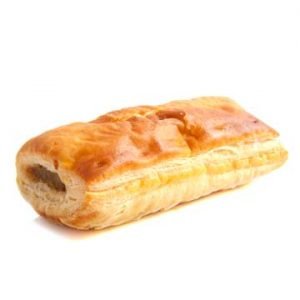 Saucijzenbroodje – These sausage in flaky pastry treats are in every supermarket and convenience store. They never cost more than 1 euro and are often two for 1 euro. Tasty but better warm and with mustard. Get something to drink, they make you thirsty.
Pronunciation – Saw-size-en-bro-jeh. I still have trouble with this one. Always want to call it a sausage broodje….
#12 Dutch Food: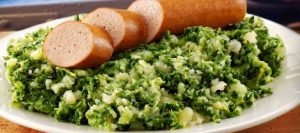 Stamppot – Stamppot is the national dish of the Netherlands. Take mashed potatoes, add in some green leafy veggie, Kale, Spinach, cabbage, brussel sprouts…stamp with a potato masher. Serve with a piece of meat, most likely a cheap piece of sausage. It is the antithesis of fine French cuisine, but it is delicious on a cold rainy night.
Pronunciation – Stahm-poht. Like stamp with that ahm instead of am sound. Then again long O, so not pot, but poat, like coat.
#13 Dutch Food:

Edam, Leyden & Maasdam Cheese – Forget that other famous Dutch cheese. What you should try is Edam cheese, a semi hard cheese, Maasdam cheese, a swiss cow milk cheese, & Leyden cheese, a cheese flavored with cumin seeds (sometimes clove and/or caraway seed as well). Any cheese shop or supermarket will do the trick. And if you really can't help yourself you can have the Gouda too, but you need to say it correctly. It is NOT GOO-DA cheese. It is HOW-DA cheese.
Pronunciation – A-dahm, Lay-din, Mahs-dahm. Cheese is Kaas said like Kahs, the"aa" is like "ah" in English.
#14 Dutch Food: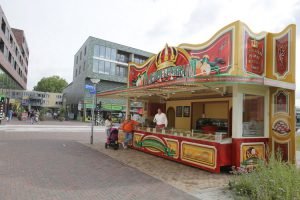 Oliebollen & Bossche Bol – Oliebollen, literally oil balls, are a fall & holiday season treat found at street vendors. Big huge balls of fried dough, sometimes filled with something. Bossche Bol are huge profiteroles, filled with whipped cream, and dipped in chocolate. You can find Bossche Bollen in Albert Heijn supermarkets.
Pronunciation – Oh-lee-bowl-len. Long O to start. See a trend here. Bows-sha Bowl.
#15 Dutch Food: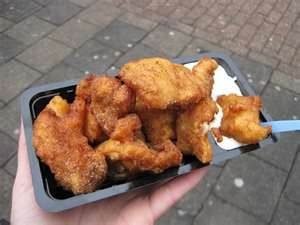 Kibbeling – Kibbeling is bits of white fish fried up in haphazard shapes. Kibbeling are not fish sticks, fish nugget, or fried fish strips. They are small, completely random shapes somewhere between a ball and a nugget, not smooth but with craggy bits. Dip them in tartar sauce or cocktail sauce. Getting them from a good street vendor is the best options. If you see Dutch people waiting in line for Kibbeling at a market, and Dutch people HATE waiting in line, get in line. You probably just found a good Kibbeling spot.
Pronunciation – Kib-bel-ling. Finally another simple one.
#16 Dutch Food: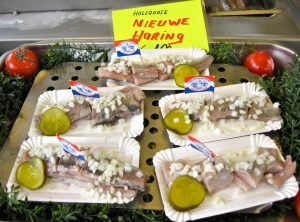 Dutch Raw Herring – Known as Hollandse Nieuwe Haring. This is a must for some and a must not for others. The Amsterdam Raw Herring Challenge. Considering you are on a bit of a edible adventure, why not try Dutch Haring with all the fixins'. A little onion, a little sauce, and down in one! Officially should only be called Hollandse Nieuwe Haring if caught between May & July, but then that would leave 9 months when tourists couldn't be disgusted and revolted.
Pronunciation – Hol-lan-za Nee-wah Hah-ring. OK,now take the marbles out of your mouth and try it again. 😉 It's a tough one!
#17 Dutch Food: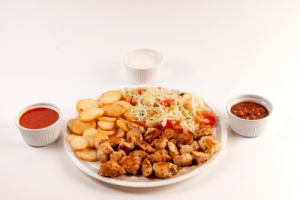 Shawarma – Need a little something to spice up the night, something like a Shawarma? A Middle Eastern mix of lamb, chicken, beef, & veal tossed about with some aromatic spices. Then dumped into a pita and topped with sla (salad) and sauce. Close to a Greek Gyro, but some would say more tasty.
Pronunciation – Scha-wahr-mah. That middle syllable should sound like car and not war.
#18 Dutch Food:

Tompouce – Want a tasty little bakery treat to satisfy the sweet tooth? Perhaps biting into a slice of Tompouce will be just the thing. Tompouce is a dutch pastry with pink icing. Don't worry, Tompouce doesn't taste pink. It tastes like custard with some light pastry on each side.
Pronunciation – Tahm-poose. Looks worse than it is.
#19 Dutch Food: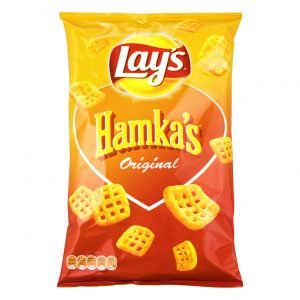 Lays Hamkas – How about chips with that classic combination of Ham & Cheese powdered flavoring? It sounds pretty awful, and quite frankly they aren't the best snack you could try(Lays Joppie Flavor Potato Chips would be that choice). But Ham & Cheese flavored chips are made by what seems like a dozen companies. None of them seem to stand out as fantastic, so Hamkas, which are found literally everywhere, are the easiest to try.
Pronunciation – Hahm-kahs. Clearly someone trademarked Hamkaas (literally Ham cheese), so Lay's had a team of 25 creative geniuses spend 6 months and $3,000,000 studying the market and came up with the brilliant solution to simply shitcan one of the "a"'s.
#20 Dutch Food: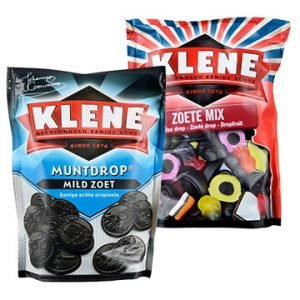 Drop – Drop is Dutch Licorice. If you like licorice you will love drop, and it comes in dozens of varieties from sweet to salty. If you don't like licorice, skip the drop and look for Red Band Coca Cola Balls, they're amazing. If you have Swedish, Nordic, or Danish ancestors, you might want to try Salmiak, or Extra Salty Drop. It has 100% authentic ammonia in it so you know it's good!
Pronunciation – Drope. Another long o sound. Rhymes with mope and rope, not drop like to drop something to the ground.